Meet Our Friendly Indianapolis, IN Staff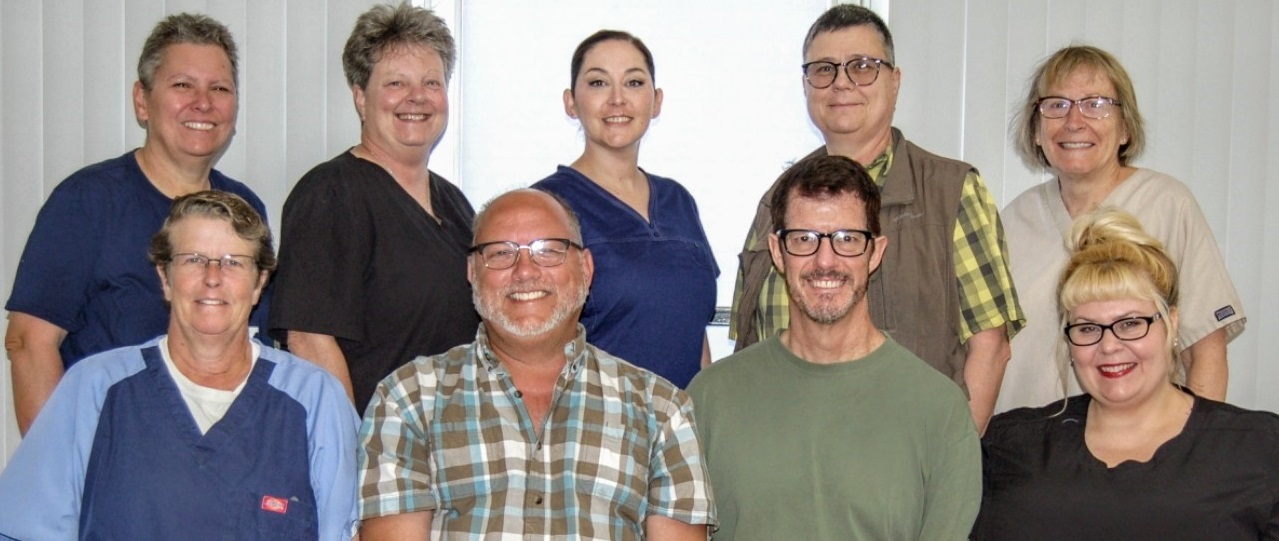 Seated left to right
Terri Noe, Glenn Churchill, Scott Sawyer, Michelle Huff
Standing left to right
Rene DeLano, Diana Dillon, Candice Todd, Tricia Pohlman, Chris Curtis
Chris Curtis, President of CC Dental Studio
Chris opened the laboratory 20 years ago with the express intent of providing consistent quality to dental professionals. Chris is a graduate of the University of Indianapolis. She is nationally board certified in both Crown and Bridge and Ceramics. She is a member of Spear study clubs and sits as a director for the Association of Indiana Dental Laboratories.
Terri Noe, Vice President of CC Dental Studios
Terri joined the lab full-time 14 years ago. She brings management experience from Westinghouse as well as logistics from United Parcel Service. Terri is well known and well liked by her clients and has been instrumental in the growth CC Dental Studio has experienced.
Diana Dillon
A lifelong resident of the Indianapolis area, Diana has been working in the field of Dental Technology for 30 years. Nearly all that time she and Chris have been working together at CC Dental Studio. Past times include cooking, gardening, home remodeling and anything else the family can come up with!
Glenn Churchill
Glenn is a crown and bridge technician with over 30 years of experience who enjoys country living, music making, and can be found most weekends on just about any lake. He has embraced the CAD revolution and is the primary facilitator of CAD design for crowns and abutments at CC Dental Studio.
Rene Delano
Rene is a Certified Dental Technician with over 30 years of experience in crown and bridge, including implants and CAD design. She enjoys Dental Technology for its blend of creativity and science. She believes that being a Dental Technician has taught her that she can do anything!
Scott Sawyer
Scott came into the dental field 10 years ago and enjoys being the "model guy" for the restoration process in the company. As the industry evolves with technology, he endeavors to remain at the forefront of production to provide the best for the clients. He lives in Indy with his 3 kids and spends his free time either at church or watching Star Trek.
Kathaleen Michelle Huff
Kathaleen grew up in Los Angeles, California before moving to Indiana. She has 28 years of fixed lab experience and 20 years of porcelain department management experience. Kathaleen is a Damaged Goods Affiliate and has previously worked with the following labs; Lumident NDX, Advantage Ceramics Inc, Crown Dental Laboratory, and OC Ceramics. Kathaleen has eight children and eight grandchildren. In her free time, she enjoys music, stained glass, painting, and making jewelry.
Candice Todd
Candice comes from Indiana. She started as a dental assistant at age 17. She has clinical dental experience in GP, surgery, and orthodontics and clinical dental lab experience. Candice started in the dental lab in 2007 and has worked with orthodontic, removable and fixed dental prosthetics in both a clinical and lab setting. On top of her love of dentistry, she is a firearms instructor and has a teenage daughter and volunteers at a children's camp annually to serve her community.
Tricia Pohlman
Recently retired from AT&T after 40 years. Tricia is a lifelong Eastsider and enjoys gardening, reading and playing with her chihuahuas - Vinny and Jojo